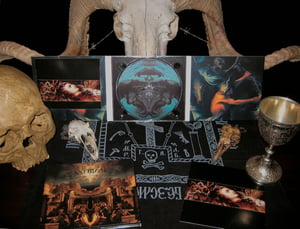 $

13.00 - On Sale
After a nigh on seven year recording silence ASTRIAAL are now poised to return with their sophomore album entitled 'Anatomy of the Infinite'.
'Anatomy of the Infinite' is strikingly different to the band's debut full length 'Renascent Misanthropy' in production, tone and song structure and resonates with a primeval, organic musicality throughout. After tracking the new album at various studios throughout Australia, ASTRIAAL travelled to Molla Lydstudios (Ulver, Aura Noir, Mayhem, Arcturus, etc) in Gjerstad, Norway to finalise the album with Knut Magne Valle (Arcturus) behind the engineers desk. Knut has previously engineered a number of significant albums from the Norwegian metal scene including Mayhem's latest album Ordo Ad Chao.
Featuring eight tracks comprising of haunting and dissonant passages interwoven with moments of epic black metal grandeur, 'Anatomy of the Infinite' will indeed satiate the needs of those ardent adherents that have been anticipating the next chapter in the ASTRIAAL sonic landscape. The reprisal looms.
Anatomy of the Infinite
01. Blessed Are The Dead
02. Visceral Incarnate
03. 'Neath The Bones of Salvation
04. Ad Interim
05. The Scars of Aberration
06. Foundations in Flesh
07. Relinquishment of The Stars
08. For the Day Will Come